Lisa Murphy-Holland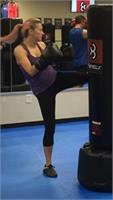 Fitness has always been very important to me, but over the last few years I somehow lost sight. I was feeling weak, out of breath, tired and just overall felt I was only functioning at 75%. The program I had put myself on just seemed to not be giving me what I needed. A close friend of mine suggested I join the Farrell's program. I decided to go in for a free trial, and the first moment I walked into the studio, I was greeted with big smiles and felt completely comfortable. Afterwards I thought to myself, "This is going to be a very big challenge". Little did I know what a life-changing event it would become. I can't express in enough words how grateful I am for this program. The Farrell's program is the only program I have ever done in my lifetime that has given me the results I was looking for. I use to dread getting up and going for a run, or going to the gym, but with Farrell's, I can't wait to go and see everyone's faces. The camaraderie with my Farrell's family has far exceeded what I ever thought possible.
During my 10 weeks, I successful changed my eating habits, lost 12lbs, 6 % body fat and finally taken control of my weight. I have gain significant strength and still continue to do so. What caught me of guard was not only do I feel physically healthy, but mentally healthy as well. It was no brainer to continue my journey as a FIT member and it feels great to be a part of other people's transformations as well. I highly recommend Farrell's to everyone; no matter what goals you have set for yourself they can absolutely be met.
Lisa Murphy-Holland is currently not instructing any classes.